Learn How to Save for College Without Breaking the Bank
See how your contributions can add up
Start with an Estimate of What You'll Need to Save—and Don't Panic
The average family only covers 32% of the cost of college with their income and savings.1 Student contributions, scholarships and grants, contributions from family and friends, and loans can help make up the rest of that total. Get a sense of what college may cost you, and how saving can help you pay for it with the College Savings Planner.
Estimate My College Savings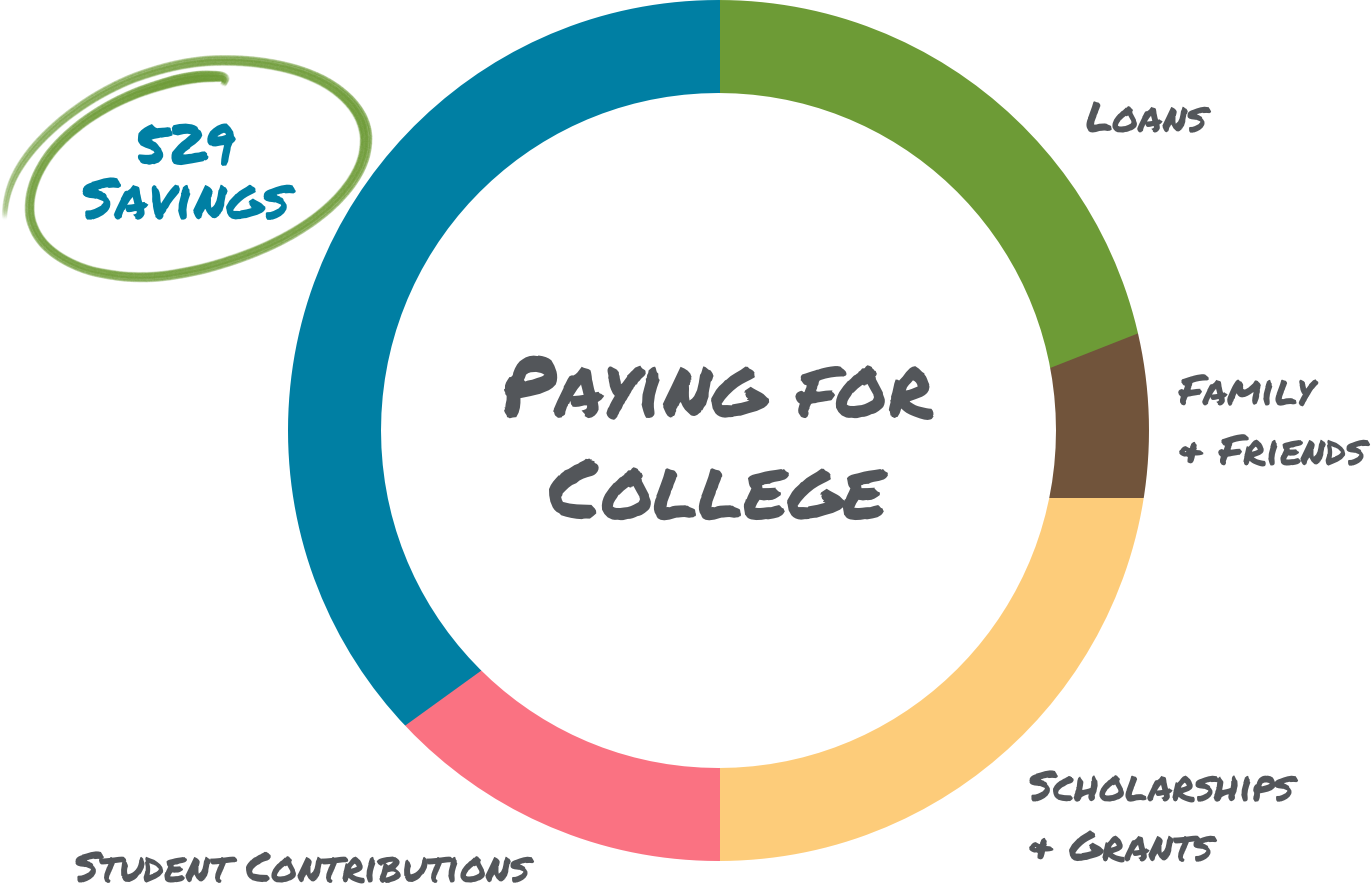 Save Now, Thank Yourself Later
Now that you have a sense of what you are saving for, think about what it could actually save you in return. Saving even small amounts over time could save you and your student from major loan payments in the future.
Look at it this way. You need
$35,000

to pay for college.
Save $21,000
to pay $35,000
Save for it
Sophia's parents start saving $100 a month when she's a baby. If they earn a 5% annual rate of return on their investment, they could potentially save over $35,000.2
Pay $49,000
to pay $35,000
Pay it back
Sophia and her parents have to borrow $35,000 to attend college. They take out a private student loan with a 7% interest rate. They will be paying $406 a month for 10 years after she graduates.2
Look at the numbers. By saving, Sophia's parents only had to set aside $21,000 to pay the $35,000 bill. By borrowing, they had to pay back $49,000 for that same $35,000. Not saving caused the out-of-pocket costs to double.
Your Child's Dreams Are Waiting. What's Holding You Back?
Saving for college comes with a lot of myths. We break them down so that you can move forward with saving for your child's future.
I can't afford to save for college, so I'm not going to bother.

FACT

Every dollar you save today is a dollar you don't have to borrow and pay back with interest. Don't get bogged down by the often overwhelming sticker price for college, instead approach it like any other large task; little by little. You set the pace when you save, the lender sets the pace when you borrow.

I'm not sure if my child wants to go to college.

FACT

No one can predict the future, but it's always better to be prepared. Think of the confidence booster it is for your child when they know you believe in them enough to be saving. And if college doesn't work out, you'll have some extra money saved.

My child is scholarship material; I don't need to save.

FACT

As parents and grandparents, it's natural to feel like your kids are the most brilliant, athletic, and talented in the world. Scholarships are wonderful, but they shouldn't be plan A. Make saving plan A, and scholarships plan B. You'll end up being delightfully surpised when a scholarship is awarded instead of caught short if one isn't. And then you can find something else to do with those savings.

Our chances at financial aid will be hurt if we save.

FACT

Let's reset your expectations. Financial aid is thought of by parents of young kids as grants and scholarships. Parents of kids in college know the truth—that it's a combination of some grants and scholarships, but most often student loans.1 Are you still worried about hurting your chances for taking on more debt?

I don't know how to save for college.

FACT

You've come to the right place! 529 college savings plans are a popular savings option, and we're here to explain them to you.
You're Busy—We Get it
Let us remind you to save for college.
Start Saving
Today
It's easy to start saving towards the future your child's been dreaming of.
Find Your 529 Plan