College Savings Insights
This blog series provides useful tips on 529 college savings plans from our experts
A Little Can Go a Long Way
September 27, 2017
By George Makras, director of institutional relationship management
Backpacks are packed, supplies are purchased, and pencils are sharpened—school is back in session. While September is a big month for back to school, it's also National College Savings Month. To celebrate, we've created a great video on the benefits of opening a 529 plan.
Now is a great time to take a look at your monthly finances and find small opportunities to save for a college education. These small amounts can potentially go a long way and you'll find that you won't even miss the money!
Many employers have introduced 529s as a voluntary benefit so contributing a small amount to a 529 through an automatic payroll direct deposit is simple and efficient.
September is also the start of open enrollment season and a great time to review all of the employer wellness benefits available to you at work. From retirement and health benefits, to healthy eating and exercise programs, more employers are investing in you! Employer benefits can help ensure your physical health, emotional health and financial health. You may even be eligible for various discounts so take time to explore the various wellness programs today and look for a 529 to make it easy to save for college.
Here are a few examples of ways that you can find extra dollars:
Brown bag it: Instead of buying lunch every day, pack and bring your lunch to work. You could save $120 a month.1
Drop cable for online streaming: You can still watch your favorite shows and movies without maintaining an additional bill. Studies show that doing so could save an average of $65 a month.2
Lose the landline: Cutting the cord can help you consolidate your contact information and save $45 a month.3
Be a discount shopper: Waiting for sales, using coupons, and price matching can help you save $40 a month.4
Just saving $25 a month can potentially generate $10,062 in college savings.5 And in 2015, 38% of all borrowers with outstanding student loan debt owed less than $10,000.6 That's a great step in the right direction!
You don't have to dramatically change your spending habits to make a big difference in how you save.
1 Based on purchasing lunch 20 times a month at a minimum of $10.00 per meal versus packing a $4.00 lunch.
2 2017 average cost of cable at $100/month vs. YouTube TV at $35 a month: Forbes.com
3 Average cost of basic phone service, including local and long distance calls: Costhelper.com
4 Based on using a 20% coupon for a purchase of $200 or greater.
5 Based on 18 years of saving and a 5% return on investment: howtosaveforcollege.com
6 As reported by College Board -Trends in Student Aid 2016
The above examples are for illustrative purposes. Costs and savings will vary.
Happy Daycare Liberation Month!
August 21, 2017
By Suzanne Fetky, vice president marketing at Ascensus College Savings
We know it's not a real holiday, but for parents of young children in daycare—it should be. With school starting sometime between August 1 and Labor Day, many families—including mine—get to experience the joy of no longer writing that weekly check to a daycare provider.
According to the 2017 Cost of Care Survey by Care.com, the average cost for one child in day care is $211 a week. It turns out that this is one case where my child is absolutely above average. This cost can vary dramatically from state to state, but at roughly $850 a month, that is a huge expense for families to bear.
If you are one of those families, congratulations on this exciting milestone! I'm sure you have plans for at least some of that money, I know I do. Part of my plan is to allocate some of the savings into my son's 529 plan account. I save regularly though payroll direct deposit, and will increase the amount per paycheck. Here are three reasons why you should consider taking some of it and investing in a 529 account for your kindergartener:
A little goes a long way: Taking $100 a month that would have been spent on daycare and putting into a 529 plan instead can potentially turn into over $25,0001 for college. Use our College Savings Planner to estimate what is possible for your family.
The power of compounding: According to our annual college savings trends report, families who open an account and start saving early in a beneficiary's childhood are often in a better position to grow their savings. Our data suggests that account owners with beneficiaries ages 16 to 17 who had the foresight to begin saving early have now accumulated an average account balance of $31,460.2
It's easy to get started: Many plans accept contributions of as little as $25 from anyone who wants to add money to the account. Money can generally be contributed through checks, one-time or recurring online bank transfers, and even through payroll direct deposits. See what kind of plan your state offers and the benefits offered.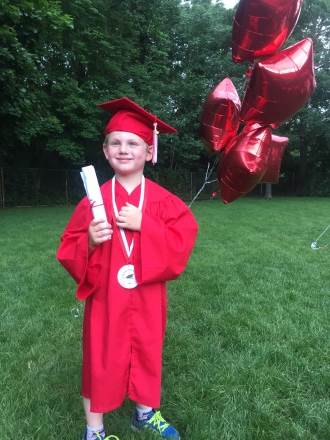 My son, Blake, graduating from preschool in May.
Starting school is an exciting time for families—saving for college can help ensure that feeling lasts long into the future. Save now, because just like the first day of kindergarten, the first day of college will be here before you know it.
1Data obtained using the College Savings Planner with the following assumptions: Child's current age is 5; a contribution of $100 per month; 5% hypothetical annual rate of return.
2Ascensus College Savings Platform, as of December 31, 2016.
Should You Include 529 Plans in Your Benefits Offerings?
July 14, 2017
By George Makras, director of institutional relationship management at Ascensus College Savings
Now is the time when many employers begin evaluating their benefits offerings in anticipation of open enrollment. In today's competitive job market, benefits play an important role in attracting and maintaining employees. Offering a 529 plan to your employees through payroll direct deposit can be a great addition to a comprehensive benefits package.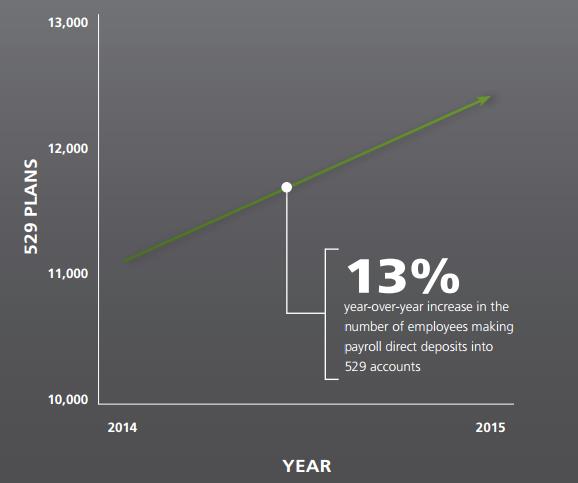 You can offer access to a 529 plan through payroll direct deposit at no cost. For as little as $15 per pay period, your employees can save for their children's and grandchildren's future education. They can even save for their own re-training and career development. In many states, onsite support is also available, making it even easier for employers to incorporate college savings in their financial wellness programs and benefit offerings.
The convenience of payroll is evident as more employees are opting to establish payroll direct deposit into their 529 accounts, making small contributions with each payroll cycle. In our most recent college savings trends report, we saw a 13% year-over-year increase in the number of employees making payroll direct deposits into 529 accounts.1 This approach can make the 529 investment process automatic, simple, and easier to manage over time.
Getting your questions answered is as easy as emailing us at 529employer@ascensus.com. Our team can help you make a plan to get a competitive edge.
1Ascensus College Savings Platform, as of December 31, 2016.
Take Our Summer College Savings Challenge!
June 26, 2017
By Suzanne Fetky, vice president of marketing at Ascensus College Savings
With summer finally upon us, we've been reflecting on the tremendous strides that families on our 529 plan platform have made in the last year. And while many account owners are beginning to make progress toward their goals, we are ready to challenge American families to begin saving, grow their accounts faster, and get their extended families and friends involved.
Here are our three challenges for you this summer:
Challenge #1: Just start!

Families who open an account and start saving early in a beneficiary's childhood may be in a better position to grow their savings. In fact, a little more than 1 in 5 newly opened accounts are for kids under age 1.1 Let's grow that number to help 1 in 4 new accounts opened be for kids before their first birthday.

How to do it:

Find a plan and open an account. On average, account owners with a beneficiary up to age 5 have accumulated $10,268 in a 529 account.1

Challenge #2: Start with an estimate of what you'll need to save—and don't panic.

The average family only covers 29%2 of the cost of college with their income and savings. Student contributions, scholarships and grants, and loans can help make up the difference. But you don't know what you need, unless you make a plan.

How to do it:

Get a sense of what college may cost you and how saving can help you pay for it with the College Savings Planner. You'll be able to find out how much you can be saving today and how much you won't be paying back with interest down the line.

Challenge #3: Don't be afraid to ask for help.

We know that this can be the toughest challenge yet. It can feel uncomfortable to ask your friends and family to give money. But I think we can all agree that the gift of college savings far outlasts the toys and clothes they usually give. And you'll probably be surprised how many people in your child's life are more than willing to help give them the kind of gift that lasts beyond the next birthday.

How to do it:

Through Ugift® it's easy and free for friends and family to make meaningful contributions throughout a child's life toward their education. All you need to do is get your account's unique code from your plan website and give it to your friends and family. Half of all gifts through the Ugift program for 2016 were for under $100, and every dollar contributed today is one that doesn't have to be paid back with interest later.1
Take this summer to think about your college savings goals and rise to the challenge.
1 Ascensus, Inc. 529 account data, as of 12/31/2016
2 How America Saves for College 2016, Sallie Mae
Five Basic 529 Questions for 529 College Savings Day
May 23, 2017
By Peg Creonte, senior vice president of new business and marketing at Ascensus College Savings
As we celebrate 529 College Savings Day (5/29), we want everyone to know that saving for college is possible.
Don't get overwhelmed thinking about saving for the full, sticker price of college. Saving for college does not mean saving for all of college. Save what you can, when you can.
As the nation's leading 529 program manager, we are currently helping families save for the futures of four million children. Over half of their accounts have balances of under $10,000.1 That amount won't pay for all of college, but it may help when the bill arrives.
If you don't already know all about 529 plans—and many people don't2—here are five basic questions, and the answers, about 529 plans:
What is a 529 plan?
A 529 is an investment account designed specifically to help save for college. There are many 529 plans sponsored by states across the country. While they share most of the same features each plan is unique and comes with its own benefits.
Does my state have a 529 plan?
Most states do. Some states will offer a state tax deduction or credit or other benefits to in-state taxpayers. So, before investing in any 529 plan, we suggest that you look at your home state's options first. We have a great website that helps you find a plan in your state.
How do I get a 529 plan?
If you are comfortable with investing on your own, you can open an account online. Most plans offer investment options that are customized to a future student's age to assist account owners in selecting investments. If you need assistance, you might want to find a financial advisor and ask them about starting a 529 plan.
Can I save for college a little bit at a time?
Yes! 60% of contributions made to our accounts are for $100 or less.1 These can be made when you have the extra money, or set up to happen automatically from your bank account or through payroll direct deposit at work.
When is it too late to start a 529 plan?
Never! On average we see most accounts opened for children age 7, but we also see accounts opened for kids much closer to college age.1 Remember, for every dollar you save today, that is a dollar less that you will potentially have to pay back with interest later.
529 College Savings Day is all about bringing greater awareness to the importance of saving for college and the benefits of using a 529. Raise your own awareness of 529 plans here at howtosaveforcollege.com.
1 Ascensus, Inc. 529 account data, as of 12/31/2016
2 How America Saves for College 2016, Sallie Mae